College Tours 2023
College Tours
At present, there are no further sessions planned for 2023
In 2024 we will be running tours from March through to the end of April. Our Open Day/Night is usually held in early Mary
Please check the Website in Term 1 2024 for confirmation of tour dates.
Open Day & Open Night Tuesday 2nd May, 2023
Each year the college conducts a Keilor Downs College Open Day & Night.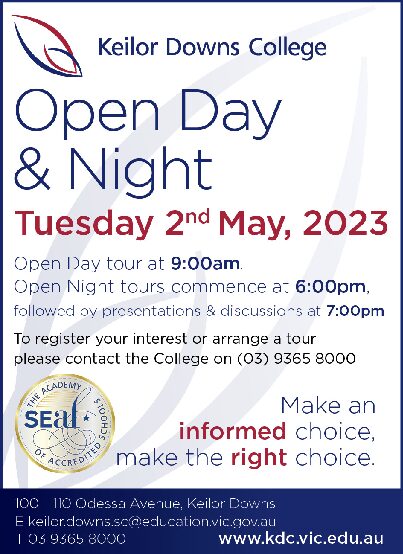 Tour Information
Morning Tours of the college commence at 9.15am and conclude around 10.30am. Students are very welcome to attend with their parent/carers.
The tour includes an information session, a look around the college's facilities and a class in action visit.
The Open day morning tour commences at 9.15am. Evening tours will begin at 6pm with an information session at 7pm.
Open Days and tours provide parents with the opportunity to meet some of our senior staff team and take the opportunity to learn about our:
comprehensive curriculum and range of subjects
rich array of sporting, cultural and extracurricular activities
supportive Year 7 transition program
high student achievements in academia, sports & employment
VCE results well above similar schools
extensive student leadership programs
DE&T accredited, Select Entry and Accelerated learning Program provided for gifted students.
A Power Point from our Open Night 2022 is available to view.