College Tours 2022
College Tours Dates for 2022
Wednesday 9th March
Wednesday 16th March
Wednesday 23rd March
Wednesday 30th March
Wednesday 6th April
Wednesday 27th April
Open Day & Open Night Tuesday 3rd May, 2022
Each year the college conducts a Keilor Downs College Open Day & Night.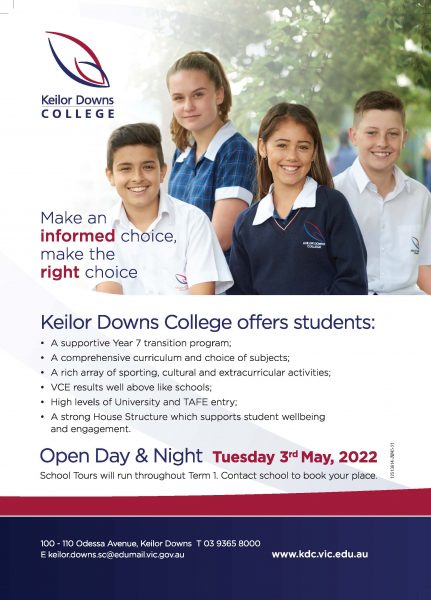 Open Day Morning Tours commence at 9am and conclude approximately 10.30am
Evening Tour will begin at 6pm followed with an information session at 7pm
We request people attending the tours to please bring a mask as their will be times when social distancing may be difficult.
Open day tours include a short information session and a tour of the facilities including a class in action visit.
Open Days and tours provide parents with the opportunity to meet some of our senior staff team and take the opportunity to learn about our:
comprehensive curriculum and range of subjects

rich array of sporting, cultural and extracurricular activities

supportive Year 7 transition program

high student achievements in academia, sports & employment

VCE results well above similar schools

extensive student leadership programs

DE&T accredited, Select Entry and Accelerated learning Program provided for gifted students.
A Power Point from our Open Night 2021 is available to view.